Shop name:
KraPow E5
Your name:
Paul Ambrose / Richard Oakes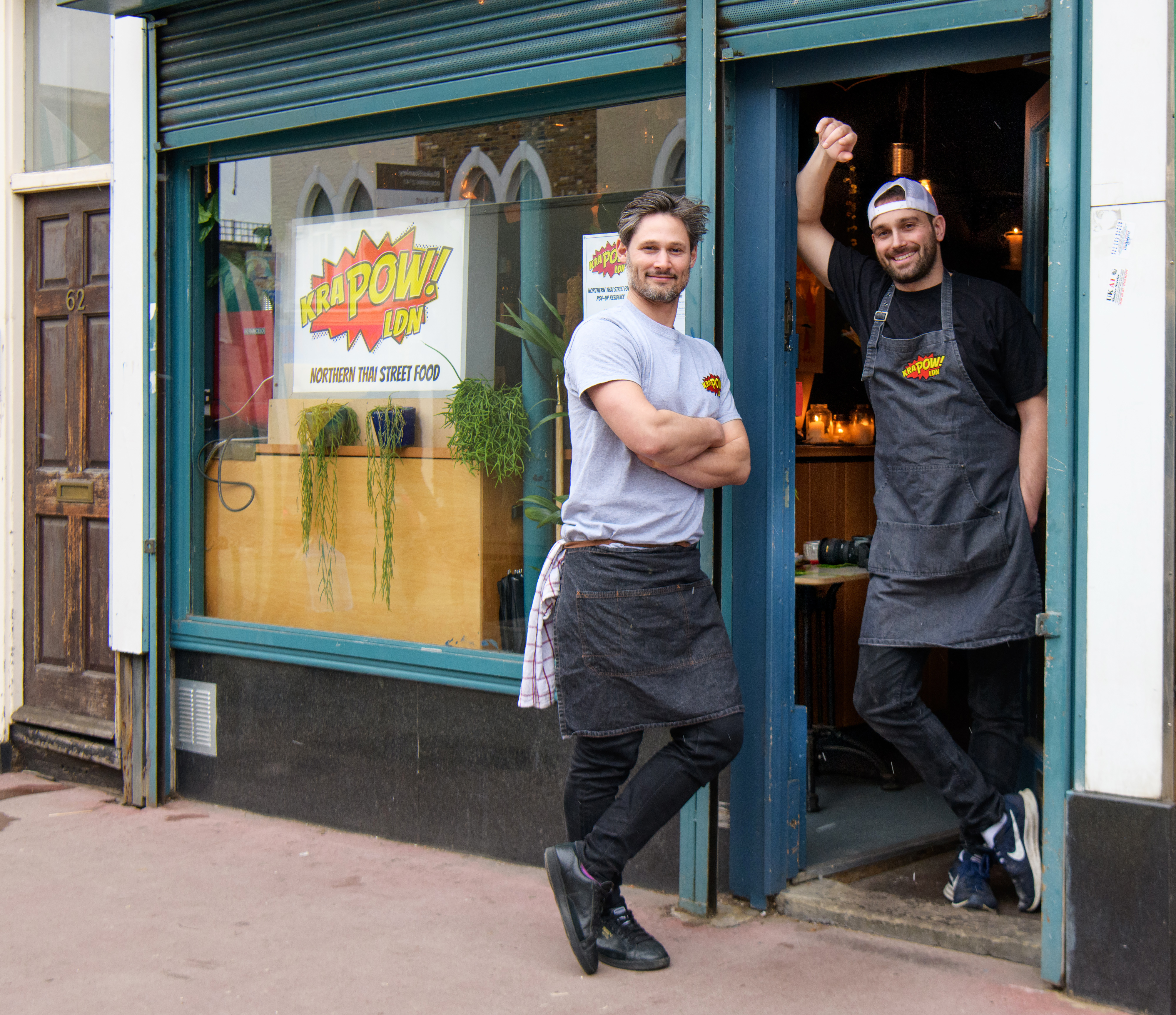 We've been here for
6 weeks!
Describe your shop in five words?
Thai, cheerful, fun, affordable, friendly
Most of our customers are
Foodies, locals, Thai food fans
It's important to us that our shop is always
welcoming, good service is paramount and above all food that is tasty, authentic and value for money.
Is there a tradition of chefs in your family?
Not chefs, but we come from food-inspired backgrounds. We're not chef trained, so this family training and advice has been utilised throughout the years, and still to this day.
Growing up we wanted to be a
PA: England Rugby player
RO: Helicopter Pilot
You win the lottery, do you still come into work?
Yes, we just take KraPow Global!
The best part of our job?
Customer satisfaction and our repeat customers.
The worst part of my job?
Clean down
What's for lunch today?
No time for lunch! ;)
Is there a gentleman's pact on the street (ie. I don't sell the same thing as my neighbor)?
Believe Thai / Asian food has been rather lacking on Chatsworth, that's what we are hearing from our customers!
What's the most expensive thing in your shop?
Apart from bottles of wine, the La Tiang (£12)
The egg net is legendary, though the egg itself is probably the least interesting thing on the plate. Shaped like a spider-web, it's basically an omelette folded over a massive serve of crunchy bean sprouts, pork mince, and big, fat, juicy prawns, all tossed together in a sweet, zingy dressing. It not only looks amazing, but tastes delicious, and is perfect for sharing!
The cheapest?
We serve free cucumber and mint tap water, along with free puffed rice nibbles. Cheapest is brown jasmine rice portions (£1.50)
The best selling?
Khao Soi – Coconut curried noodle soup.
Northern Thailand's de facto signature dish, this classic coconut and curry-flavoured noodle soup is rich, creamy, and packed with uncompromising complex flavours from a slew of aromatics. It's spiked with a curry paste made of shallots, garlic, turmeric, spices and herbs, giving the famous dish its signature flavour. With tender chicken thigh (or deep fried tofu) in the coconut-y curry broth, along with a combination of boiled and fried noodles, a dish of amazing complexity and taste.
80's rock ballads
gets the kitchen through the da
y
Busy days or quiet, which do you prefer?
Busy for sure!
What do you do in the store when you think no-one's watching?
Water the plants!
What's the strangest thing you've seen on Chatsworth road?
Never seen a parking inspector…?
What one thing would improve Chatsworth road?
Traffic!
Since we've been here, Chatsworth road has
really got behind our Thai deliciousness, and begged us to stay on past May!
Working here we've learnt that
support from the local community has been amazing.
Tell us a secret
- KraPow LDN run by two foodies with no official training/background as chefs or restaurant managers, we are just guys with a passion for great authentic Thai food, and serving in an environment we'd love to be part of.
Opening Hours
Thurs - 6-10.30pm
Fri/Sat - 6-11pm
Saturday lunch service to commence shortly,
and potentially opening Wednesday evening and Sunday lunch/dinner.
Web krapowldn.com
Instagram @krapowldn