Xmas on Chats

some inspiration to shop locally this season
All texts by Toby Hicks @toblemore
All photos by Jørn Tomter @jorntomter


Christmas in Chatsworth Road Conjure up thoughts of Christmas shopping in the capital and what springs to mind? Perhaps a stressful trudge down Oxford Street with Michael Buble blaring out from every speaker, crying children and frazzled customer service? The other end of the spectrum is the soulless online experience. A few clicks of a mouse, an auto-filled address and then praying the goods arrive in time; efficient but depressingly clinical.

Chatsworth Road offers something entirely different. Independent shops filled with tailored goods and the colourful back-stories of the owners. The jewel in the crown is our local Sunday market; full of some of the best street food and produce the capital has to offer. This year will again see a late night Christmas event on Thursday 6th December. Shops will stay open until 9pm, offering special discounts plus some much-needed fuel in the form of prosecco, gin and mince pies. There will also be a festive soundtrack provided by a jazz band, a steel band, and the Rushmore, Millfield and Hackney Voices choirs. For the kids, the all-important Santa and his elves will be giving out goodie bags in his Chatsworth Road grotto from 4:40pm - 7:30pm. It's free to visit, but booking ahead via Eventbrite is essential. Click here to book.

There will also be three special Sunday markets on the 2nd, 9th and 16th December, where the number of stalls will swell from 40-60 and surrounding roads will be closed allowing more space for the traders and shoppers.

Below we feature a selection of shops and stalls from the market and below the photos we interview some of the traders.

Story and shop info continues after the photos...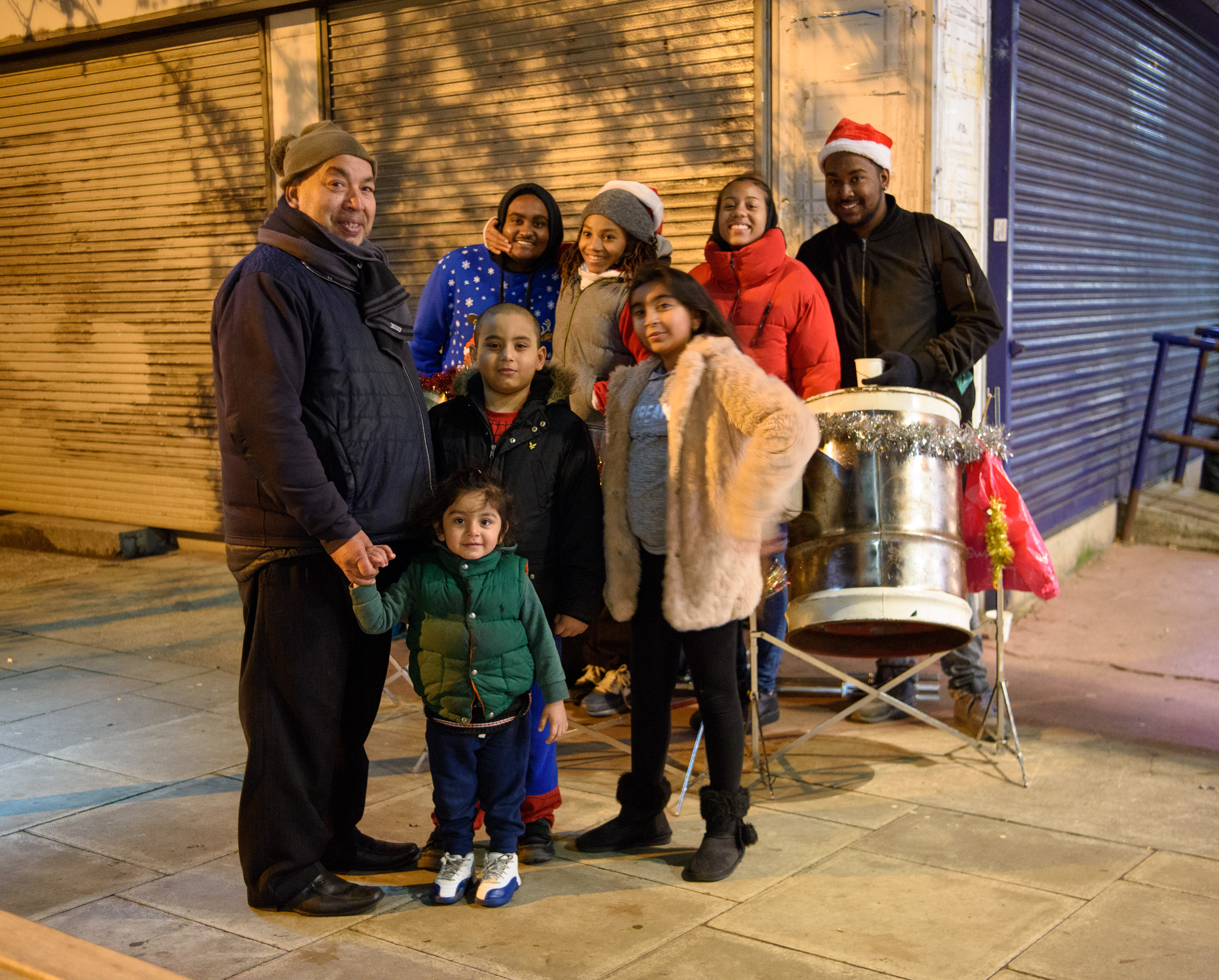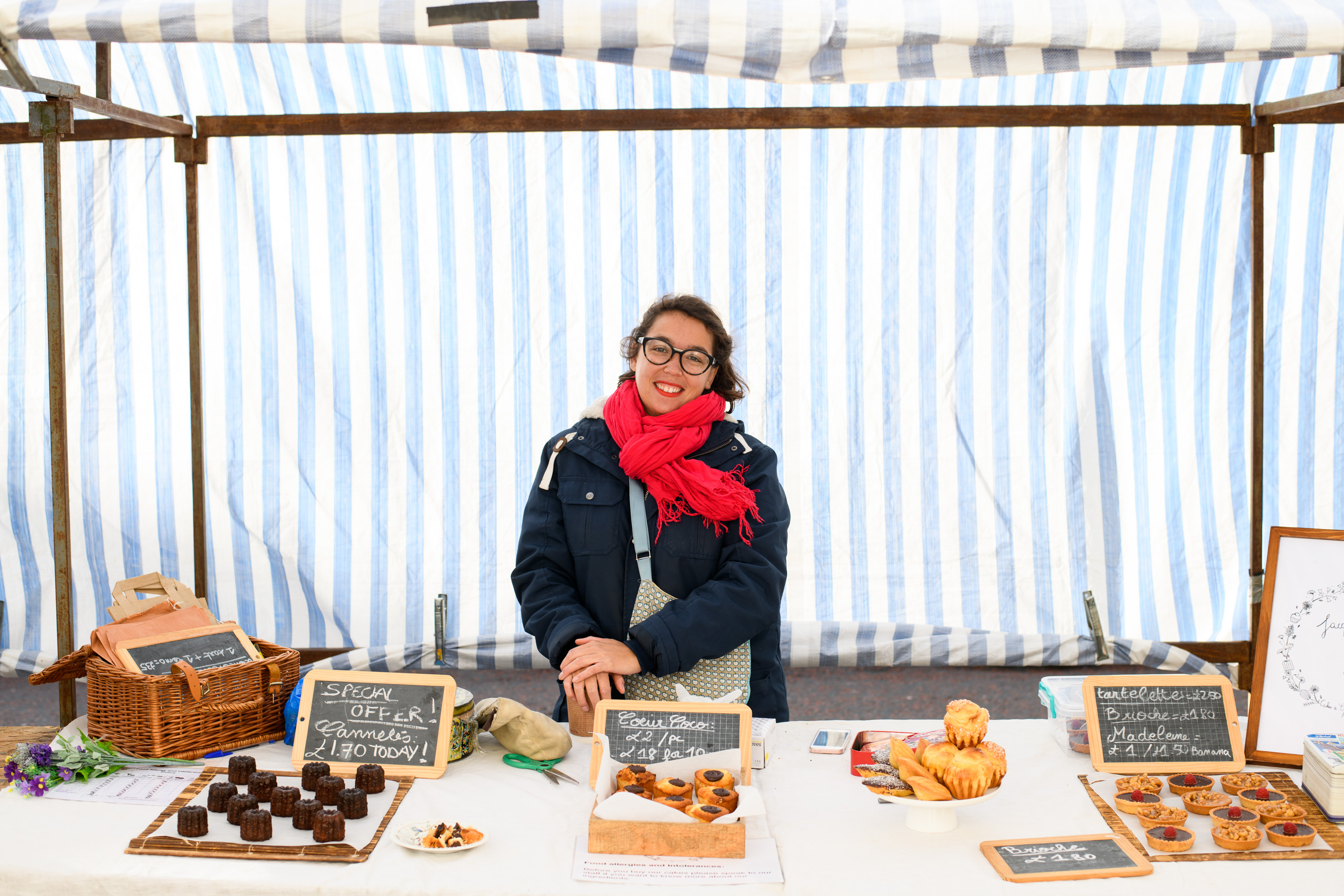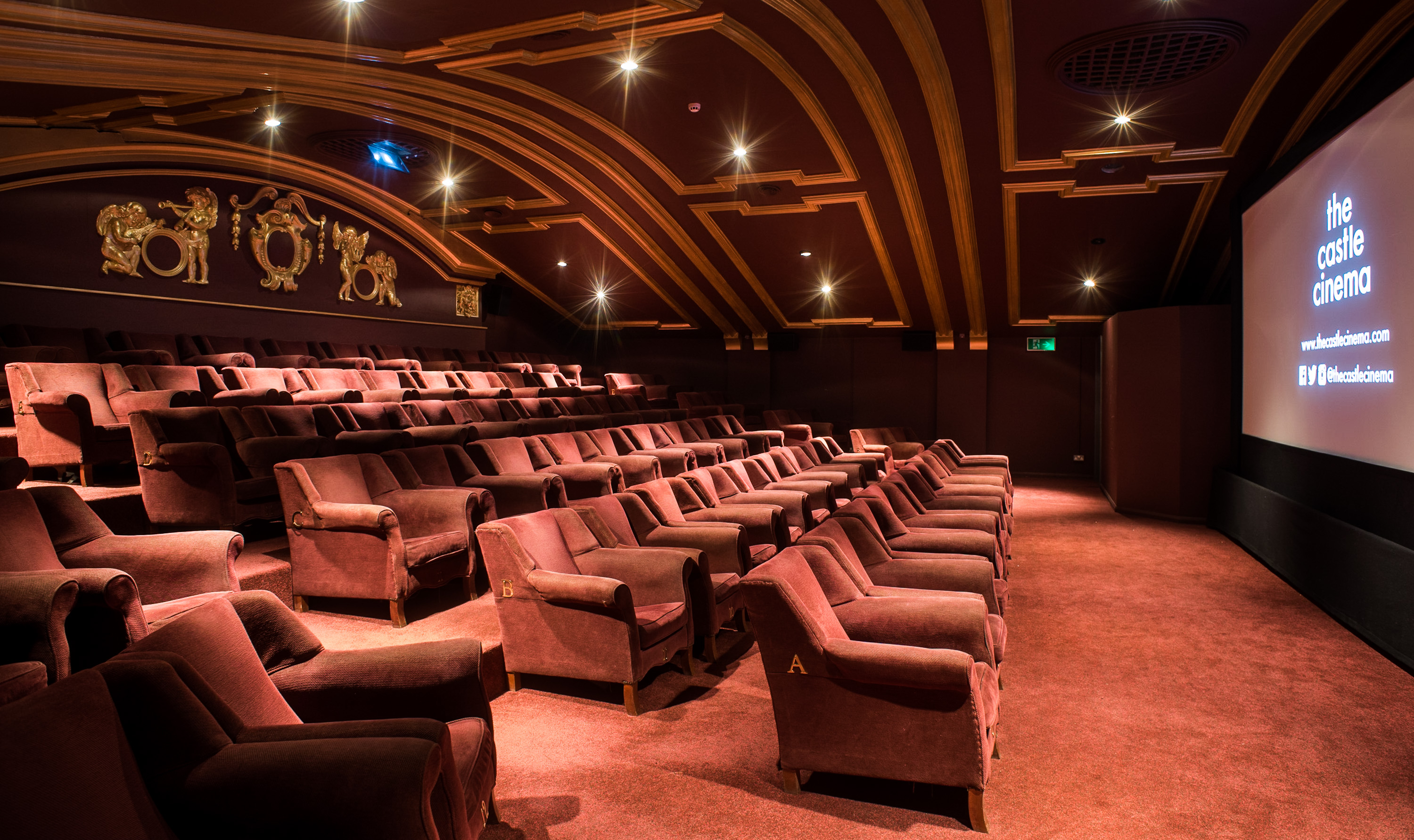 Jacques et Lilie

Jacques et Lilie has been a firm favourite on the market over the past year. Run by Amandine and her cousin Paul, the stall consists of traditional French handcrafted cakes, mouth-watering cannelé and brioche.

When I speak to her on a Thursday, she is hard at work preparing for their peak trading hours. She bakes everything on Fridays for Archway, the market she trades at on Saturdays. On Sundays, she sets up stall on Chatsworth Road. The stall is named after her grandparents who ran the original family baking business in Cap Feret, Bordeaux. "The family business was first created by my great grandparents and almost died out. It was supposed to go to my uncle but never was," she says solemnly. "Ultimately I thought, why not try it here?"

Eight years ago, her life was drastically different. She was a fashion designer for kids, but always had a dream to go into the food business, to revive the family heritage. She started out by selling to friends and family, then created a website and built a bustling Instagram profile. Three years ago, she traded at a Christmas market in Hackney Downs and after seeing how quickly her cakes sold, she realised the huge business potential. "I started in Archway, but always wanted to set up in Chatsworth. So I got a spot two years ago. It was ideal because it is near to where we cook, Hilsea Street, Millfields."

The physical business may have travelled the channel but the original ethos very much remains the same. "We use high-quality products, from our Bordeaux family recipes. The rum is similar to the one used by my grandparents. We have the best French butter. The Valrhona chocolate is the same as my grandparents use - high end," she says with pride. For Christmas, she is offering mini bags of cakes and tartlets as gifts. "We'll put together boxes with mini madeleines, mini cannelé from Bordeaux, tartlets, Coeur coco and a Christmas greeting." They will cost around £20, depending on what you pick. Her next venture is crowdfunding to get a 2cv coffee van. "We have the cake, you just need a good cup of coffee with it!" Bien Sur! Website:

http://www.jacquesetlilie.com
Instagram: @jacquesetlilie

A New Tribe

Ella, the owner of New Tribe, a homeware and rug shop, also has a fashion design background, having once worked for high street retailers. When asked about the challenge of starting out on her own, she says, "I didn't know if I could do it," with charming honesty. In 2014 she took the plunge and set up her first pop-up shop, collating her own rug designs with those of others. She thoroughly enjoyed the experience and decided to try something similar on her local Clapton high street, soon securing a much-coveted spot.

Aesthetics are a big part of the shop's appeal - unsurprising given her creative background. Bespoke ceramic sets adorn the tribal theme etched windows. Handmade utensils, stationery and stylish houseplants tastefully line the shelves, encased by intricately designed Moroccan rugs. Even her spotted lurcher, Peggy, fits in perfectly, blending in with the pale rug in front of the till. The rugs, which retail from £240 to £680, are her staple, her passion and skill woven through the threads. She specialises in vintage Azilal, Beni Ourian and Boucerouite, and works with local experts and cooperatives, ensuring local tradesmen are paid a fair price.

Meanwhile, her ceramics are sourced from local designers and she has collaborated with the likes of Kana and Milo from Hackney Downs. "I offer something unique. I work with independent designers and local craftspeople. That's what people like."

Her speciality over Christmas will be print-your-own tribal motif cards, and a percentage of the sales will be donated to a local charity. There will be one card free with every purchase during the late night shopping evening. Ella particularly loves Hackney during the festive period. "I love Chatsworth Road for the community feel. It's enhanced at Christmas, which should be about community."

Website: www.anewtribe.co.uk
Instagram: @anewtribe

Chatsworth Flower Stall

Chatsworth Flower Stall is one of the road's best-kept secrets, with a wide and ever-changing selection of flora and fauna. In December, the Christmas trees are a godsend to non-driving locals, with a range of sizes priced from £10 to £40. They also stock wreaths and holly.

Brett's been running the stall for three years, having previously traded at other markets, such as Deptford. Trading is in his blood - his dad sold fruit - and it's a tradition he's keen to continue, so he often ropes in the help of his three daughters and three stepchildren. When I speak to him, his daughter Rebecca is on duty, helping serve customers and regularly restocking the display.

"Have you got irises?" A woman laden with shopping bags asks. Brett gestures to them. "Oh thank god, you're my lifeline!" she exclaims. "I don't actually like irises," he admits to me when she's gone. "But my customers do, and it's about keeping them happy and it's what I love." His favourites are the pink and yellow tulips, which today are strikingly enhanced by the autumnal sunshine. He trades throughout the year, come rain or shine, and has long gotten used to getting up "at stupid o'clock" to source the day's produce.

It's the customer interactions that keep him motivated. "I do my best to look after them, we have what they need. People are pleased to see you. I like to mix up what I offer. You could call it scattergun! I have a little of everything, anything that's interesting and different. The seasons change and that keeps it interesting."

Over Christmas, he'll have more space due to the road closures, meaning he can get two vans in. He's excited at the prospect of being able to offer more to his customers. Even on a cold winter morning at "stupid o'clock".

More shops, market traders and offers:

Name of your stall: Kottu Lanka
Your name: Ravin Perera
Website: www.kottulanka.com
Instagram: @kottulanka
What do you stock? Sri Lankan street food
Why should people visit your stall over the Christmas period? Our food is ideal for warming the cockles during the cold winter months, plus we always serve with a friendly smile.

Name of your stall: Breadwinners
Your name: Martin Cosarinsku Campos
Website: www.breadwinners.org.uk
Instagram: @wearebreadwinners
What do you stock? The best artisan organic bread and pastries
Why should people visit your stall over the Christmas period? We will have the best mince pies ever, and you'll be helping newly arrived people in the UK get into the Christmas spirit.
A bit on Breadwinners..."Breadwinners is a grassroots charity providing Londoners with the best artisan organic fresh bread and supporting refugees to have a fresh start through our entrepreneurship, employment and work experience programmes at our market stalls."

Name of your stall: Rozenbroek
Your name: Jade Rozenbroek
Website: www.jrozenbroek.com
Instagram: @joserozenbroek
What do you stock? Sustainable menswear, handmade in England by local craftsmen using solar power and the highest quality, organic, vegan and repurposed materials.
Why should people visit your stall over the Christmas period? We are a small, friendly company offering slow fashion that is built to last. The items we sell are great for gifting or even for spoiling yourself.

Name of your stall: StarlingandHider
Your name: Maggie Kennedy
Website: www.StarlingandHider.com
Instagram: @starlingandhider
What do you stock? Chic accessories for people on the go: cyclists, runners, and long-boarders. Things that help you stay handsfree, like belts, belt bags, CoinPods, D-Ring Cardholders. We also sell meetup attaches and backpacks for people who depend on their laptops and iPad devices.
Why should people visit your stall over the Christmas period?We operate a two-channel price policy. If you visit our stall locally and spend at least £5 we give you a local shopping discount code, which will give you huge discounts on online prices!

Name of your stall: Soulfulwrapsnthings
Your name: Malka / Freda
Website: www.soulfulwraps.co.uk
Instagram: @fredaphontane
What do you stock? Women's clothing, toiletry bags, pencil cases, coin purses plus Christmas tree ornaments and hangings. I hand-make all items using colourful fabrics.
Why should people visit your stall over the Christmas period? As well as friendly customer service, people are sure to find great gifts and items they can repeatedly use.

Name of your stall: The Fresh Fish Shop
Your name: Sebastian Candelon
Website: www.thefreshfishshop.com
Instagram: @thefreshfishshop
What do you stock? We stock a huge variety of sustainably sourced fish, mainly from the South Coast. We buy a huge quantity of line-caught, day-boat fish and we source our salmon from RSPCA Freedom Food-approved Loch Duart so you can always rest assured our quality is excellent and well sourced.
Why should people visit your stall over the Christmas period? Because we have a wide range of carefully selected fish and seafood. We do our own fish platters, dressed salmon and variety of pates and fish cakes.

Name of your stall: Yarns U Like
Your name: Marcia Knight
Instagram: @yarnsulike
What do you stock? Natural, eco-friendly and fairtrade hand knitting and crochet yarns.
Why should people visit your stall over the Christmas period? Hand knitting and crochet has become increasingly popular with young, creative people. My stall offers the best natural and affordable yarns for any knitting or crochet project, which can be turned into that all-important Christmas hat or scarf.

Name of your stall: Ymaj
Your name: Amy Joycey
Website: www.joyceyamy.com
Instagram: @ymaj
What do you stock? I currently sell various printed materials such as A4 size prints, wish cards, postcards and zines featuring illustrated characters I call 'Snoozes'.
Why should people visit your stall over the Christmas period? I will stock Christmas cards and patterned wrapping paper and I will also be taking orders for customised prints, which will make the perfect gift!


Name of your shop: Darling and Gold
Your name: Holly Drew
Website: www.darlingandgold.com
Instagram: @darling_and_gold
What do you stock? Menswear, womenswear, home decor and gifts.
Why should people visit your shop over the Christmas period? Prices start at £7.50 and we've got a great selection of gifts, be it a work secret Santa or something more special for your partner. Our staff are eager to help you find original gift ideas to fit your budget.
Do you have a specific discount you'll offer for the late night shopping event? We'll be offering 10% off clothing, accessories and drinks.

Name of your business: Jim's Cafe
Your name: Andrew Esqulant
Website: www.jimscafeclapton.com
Instagram: @jimscafe59
What do you offer? Comfort food for children and adults, milkshakes, wine, beer and cocktails.
Why should people visit your cafe over the Christmas period? It'll be warm and toasty with retro Christmas decorations!
Do you have a specific discount you'll offer for the late night shopping event? A takeaway roast turkey sandwich with a mulled wine or cider for £8.

Name of your shop: The Hackney Draper
Your name: Nicole
Website: www.thehackneydraper.co.uk
Instagram: @thehackneydraper
What do you stock? Local and international textiles and homewares, paint, bespoke curtains, blinds and upholstery service.
Why should people visit your shop over the Christmas period? We'll be stocking a range of unique and considered gifts as well as handmade and sustainable linens, candles and tableware for a festive Christmas table.
Do you have a specific discount you'll offer for the late night shopping event? A 10% discount on all items plus homemade Christmas cookies and mulled cider.

Name of your shop: Triangle
Your name: Tory
Website: www.trianglestore.co.uk
Instagram: @triangle_store_hackney
What do you stock? Beautiful interior products, men and womenswear, exclusive perfumes and a range of organic apothecary.
Why should people visit your shop over the Christmas period? We will be showcasing the work of Artist J. Elbourne for the Christmas period. All work will be for sale.
Do you have a specific discount you'll offer for the late night shopping event? Discounts, giveaways and treats for the children.

Name of your shop: L'épicerie @ 56 Ltd
Your name: Rémy Zentar
Website: www.lepicerie56.com
Instagram: @lepicerie56
What do you stock? Fine food, fresh bread and bakery, wine, coffee and much more.
Do you have a specific discount you'll offer for the late night shopping event? A 10% discount on our Christmas wines, panettones and chocolates.

Name of your business: The Castle Cinema
Your name(s): Ash & Dee
Website: www.thecastlecinema.com
Instagram: @thecastlecinema
What do you offer? A comfy cinema and a beautiful bar!
Why should people visit over the Christmas period? Festive films and delicious drinks.
Do you have a specific discount you'll offer for the late night shopping event? Free mince pies at the bar, plus vouchers for 10% off Christmas films.